DETAIL
【Reservation Limited】 ◆ Date Meat Mega Suspension Course 2 hours with all you can drink ◆ 4500 yen ◆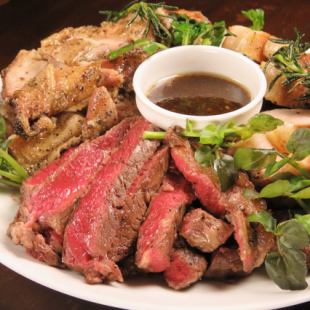 By using a coupon4500 yen
tax included
All-you-can-drink available

Cocktails can be offered outside the menu if there is material.Sparkling wine and sake can be prepared depending on the number of people and conditions, so please consult us.
Reservation deadline

Coming to the store until the day 15 of the desired date
Grill of meat MEGA grill of cattle, pig, chicken total weight 1 kg! (For 4 people) Please enjoy with delicious Date source stuck to Tohoku.From welcome party to carnivorous girls' association, it is a course recommended for meat lovers Recommended booking from 4 people.
Course menu
· Assorted 3 kinds of appetizers of the day
· Tohoku local vegetables plentiful salad with homemade dressing
· Sendai specialty! Definition Mountain triangular fried ralm style
· Long-selling anchovy potato
· Delicious meat MEGA served secret secret date with delicious sauce
- Today's pasta
- Today's Dolce
The last order will be 15 minutes before the end.
You can prepare a dessert plate with a message free of charge.
(Not available when using coupons)
When charter or full occupancy, it may take 2 hours to use the seat.
There is a possibility of content change depending on weather · stocking situation.
Please acknowledge.
All-you-can-drink menu
- Draft beer Beer cocktail
· Sapporo Black Label · Shandyferf · Red Eye
Spirits Cocktail
· Gin Tonic · Jimbac · Orange Blossom · Vodka Tonic · Moscow Mulberry · Bulldog · Rum Tonic · Rum Coke · Lamb Orange · Tequila Tonic · Tequila Orange
Wine Cocktail
· American lemonade · kitty · miffy · keel · carimoco · spritzer
Fruit Cocktail
· Cassis orange · cassis grapefruit · cassis soda · peach soda · fuzzy name · reggae punch · peach grapefruit · lychee soda · lychee tonic · lychee orange · lichi grapefruit · campari · orange · campari · soda · spumoni
Milk Cocktail
· Kalua milk · cassis milk · peach milk
· Ice Ball (Dry High Bowl of Grapes)
· Ice ball · lime ice ball · punch lemon ice ball
Sour sake High
· Punch lemon sour · Man plum sour · lime sour · grapefruit sour · oolong high
And other
· Plum wine · Potato shochu · wheat shochu · red wine · white wine
·Soft drink
· Oolong tea · cola · ginger ale · orange juice · grapefruit juice · jaw tea · ice coffee · tomato juice
Coupon that can be used
【Pre-order only】 Group of women only course All you can drink 2 hours → 3 hours!

Presentation conditions

At the time of booking

Conditions of use

Tickets and services can not be used together Required reservation (same day reservation OK)

Expiration date

January 02, 2018 - June 30, 2018
2018/06/07 update